Support From Dedicated Healthy Aging Experts

Fastest Delivery Of Chambers In The UK

Highest Quality
Chambers On
The Market

Best Price & Biggest Upgrade Bundle




Recover L80 Hyperbaric Oxygen Chamber: The Future of HBOT Therapy Offers Multiple Health Benefits
Oxygen therapy is a comprehensive solution to many of our health problems today. Covering a wide spectrum of benefits, it has been found time and again to work wonders on the mind, body, and overall well-being.
Looking for an effective therapy solution to your health concerns? We proudly introduce a wonderful, state-of-the-art offering in oxygen therapy: the Recover L80 Hyperbaric Oxygen Chamber.
Unlock The Health Benefits Of HBOT Therapy
Gain control of your health with the ultimate in full-body rejuvenation

Reduces inflammation, supporting healthier aging and decreasing the risk of age-related inflammatory conditions.

Improved Cognitive Function
Improved cognitive performance by enhancing blood flow to the brain and aiding in the repair of damaged brain tissues.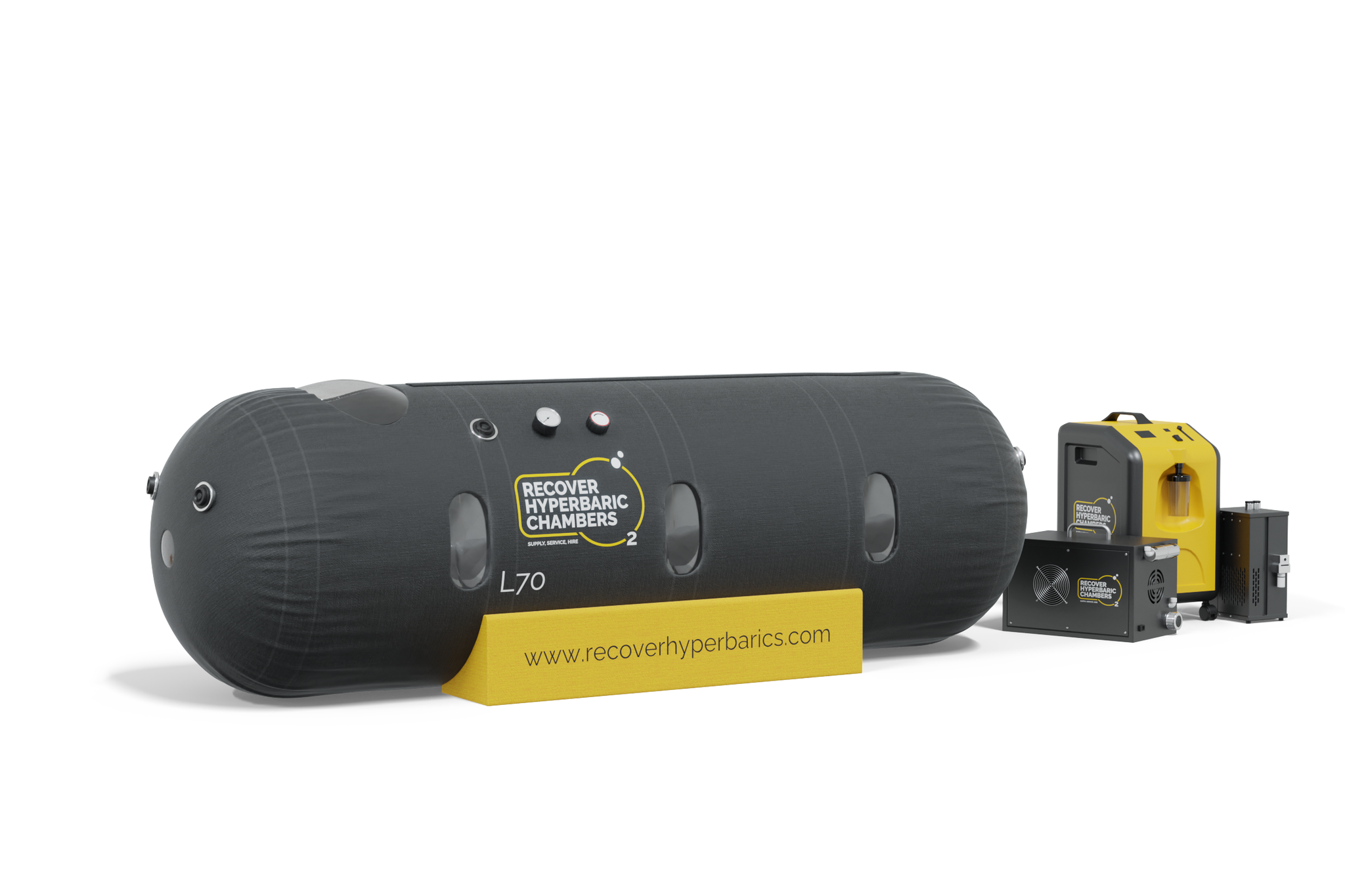 Stimulation of Stem Cell Production
Stimulates the body to produce more stem cells, which play a crucial role in tissue repair and regeneration.

Enhanced Collagen Production
Increased oxygen from HBOT boosts collagen production, helping to maintain skin elasticity.
Plus dozens of other health benefits including
Enhanced wound healing, improved recovery from radiation injuries, reduced effects of chronic infections, accelerated healing of diabetic ulcers, treatment for carbon monoxide poisoning, relief from decompression sickness, support in post-surgical recovery, alleviation of symptoms related to certain neurological disorders, mitigation of some autoimmune disorder symptoms, increased oxygenation of tissues, and increased antibacterial activity.
Hyperbaric oxygen therapy (HBOT) is a treatment that increases the amount of oxygen in blood cells. It has been used for more than 70 years to improve healing in infections in which are tissues deprived of oxygen.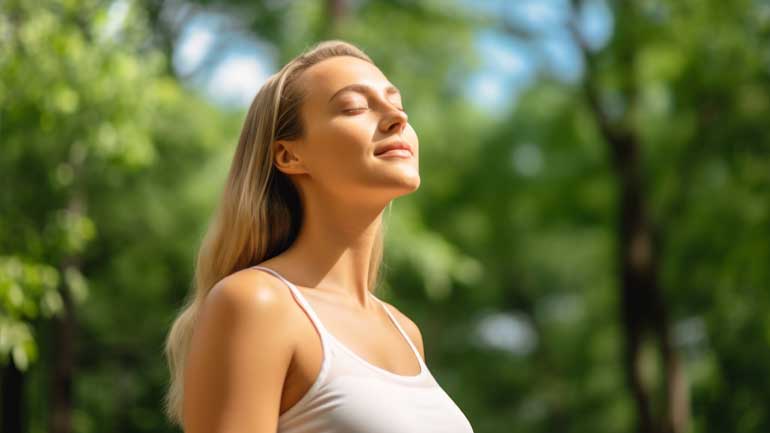 One Therapy - Many Health Benefits
Hyperbaric oxygen therapy enhances the body's natural healing processes by increasing oxygen saturation, benefiting a wide range of medical conditions and promoting overall wellness.
The Power Of High Purity 96%+ Oxygen At Pressure
Hyperbaric oxygen therapy is delivered in a specialised HBOT chamber, where you simply breathe pure oxygen in a pressurised chamber, enhancing the oxygen concentration in the bloodstream. In this environment, oxygen is able to dissolve more readily into the bloodstream, especially in the plasma.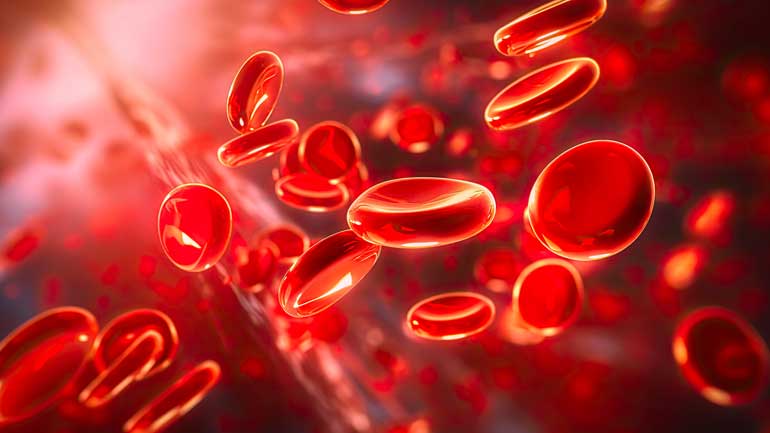 Flood The Body With Healing Potential
Enjoy the full benefits of HBOT therapy and take your health to the next level with our highest-quality Recover L80, an advanced hyperbaric chamber that offers nothing less than health and care excellence for your everyday life.
- Sessions typically last 60 - 90 minutes.
You will remain fully clothed throughout the treatment, needing to remove only your shoes.
- The treatment is delivered in a comfortable lying down position and you are free to move around during the session.
- The treatment is painless and non-invasive. You can relax, read, sleep or meditate during the treatment.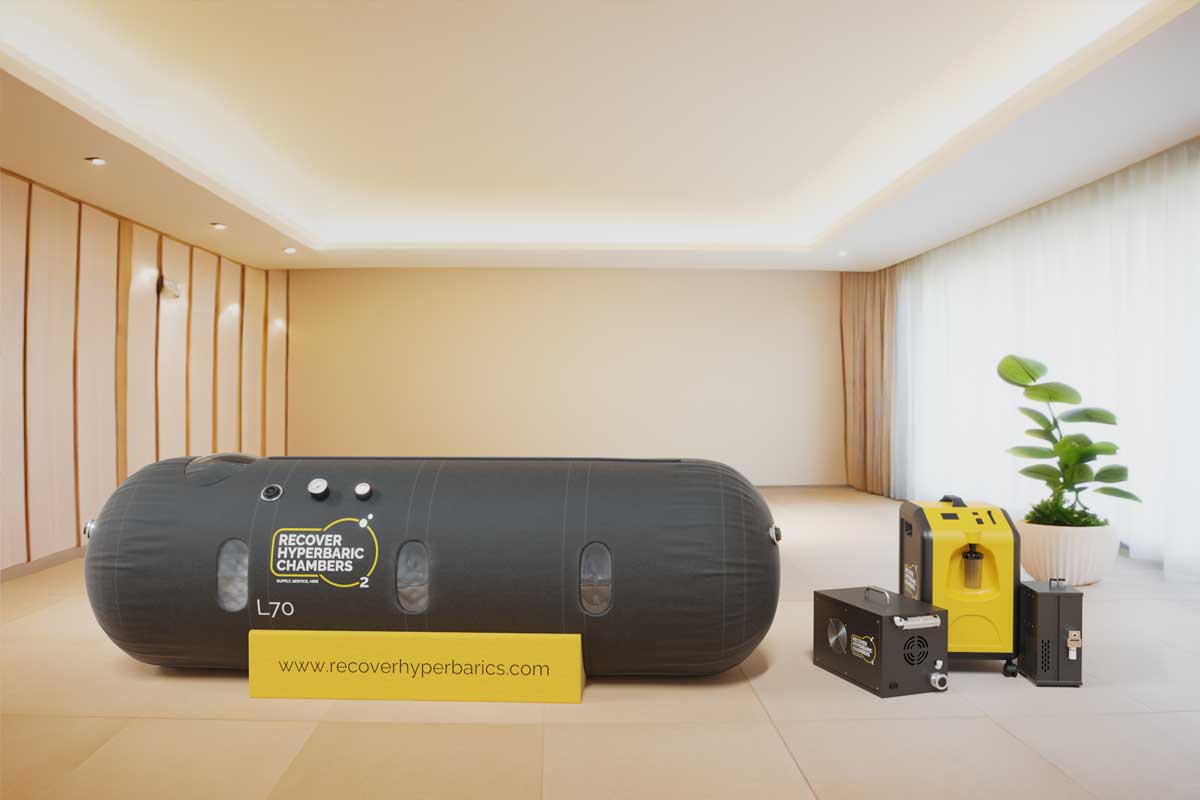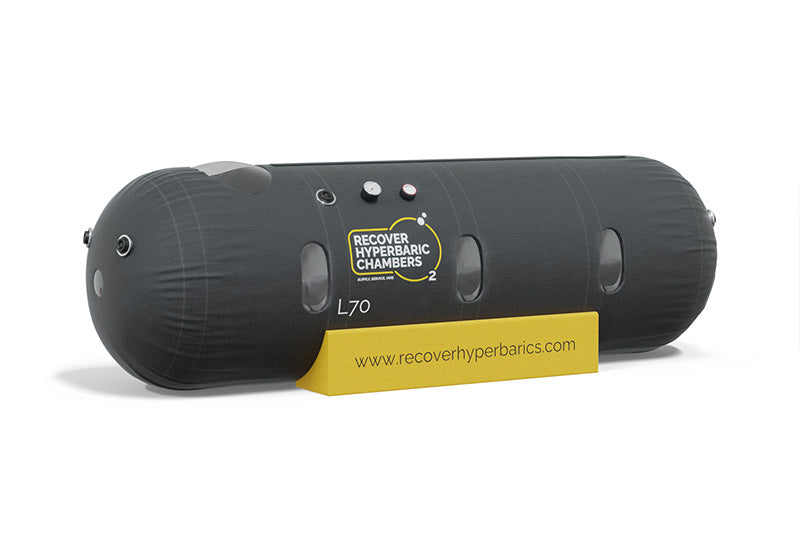 Same manufacturer & build quality

Internal metal frame to keep shape when deflated

ISO 9001 accredited company
£13,499
Plus FREE Longevity Box Upgrade worth £1,820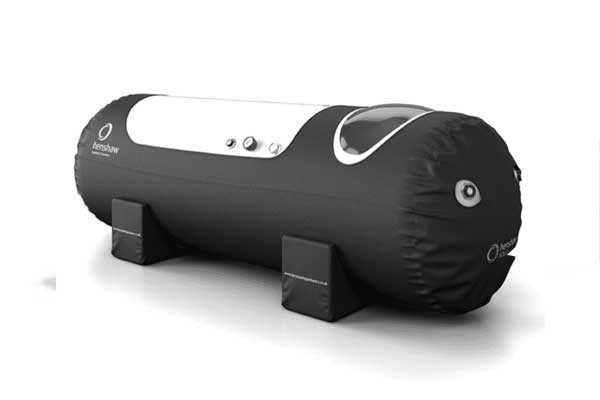 Same manufacturer & build quality

Internal metal frame to keep shape when deflated
Hundreds Of Happy Customers
UK Hyperbaric Oxygen Chamber 1.4 ATA
70cm portable HBOT chamber with a maximum 1.4ATA (7psi) operating pressure.
Antibacterial cotton & bamboo memory foam mattress.
Oil-free air compressor with advanced filtration.
Oxygen concentrator with 1-10L min continuous oxygen production, no tank necessary.
Semiconductor Refrigeration Technology Air Dryer for optimal temperature and humidity control.
Template operating procedures and risk assessments for the safe use of hyperbaric oxygen chambers.
Our return policy allows you 14 days from the date of receipt to request a return.
For a valid return, ensure that your chamber and its equipment remain in the condition you received them, housed in their original packaging. A receipt or purchase proof is essential.
To initiate a return, reach out to us at sales@recoverhyperbarics.com. Our installation team will manage the return process, coordinating with you to set a collection date and time.
Upon accepting your return request, you'll receive a confirmation. Our installer will then liaise with you, confirming the collection within a 14-day window. We won't entertain items returned without prior notice. Bear in mind that all shipping and restocking fees fall upon the buyer.
For any queries about returns, feel free to email us at Team@LongevityBox.co.uk.
Damages and Issues
Ensure you inspect your order upon installation. Should you find any defects, damages, or incorrect items, notify us promptly. This allows us to address the problem effectively.
European Union 14-Day Cooling Off Period
Regardless of the aforementioned, for goods shipped to the European Union, you possess the right to cancel or send back your order within 14 days, without needing to provide a reason. Your returned item should remain unused, in its pristine state, and housed in its original packaging. A receipt or proof of purchase remains crucial.
Refunds
Once we receive and assess your return, we'll inform you about the refund status. If sanctioned, expect a refund to your original payment method within 10 business days. Understand that banks or credit card firms might require additional time to process and reflect the refund. Any return will have a 30% deduction for shipping & restocking to cover costs like collection, disassembly, cleaning, scrutiny, and shipping.
If you've waited more than 15 business days post our refund approval, don't hesitate to contact us at Team@LongevityBox.co.uk.
Our F Range fixed chambers are exempt from this returns policy due to their custom-built nature and unique sales agreements.
We are committed to providing a seamless shipping experience for our customers. Our shipping policy ensures timely delivery and installation of our hyperbaric chambers, along with free onsite training for customers in the United Kingdom and the Republic of Ireland.
UK and ROI Orders
All orders in the UK and ROI include free delivery, installation, and onsite training.
Orders are typically processed and shipped within one week.
Once your order has been placed, one of our advisors will contact you to schedule an installation date.
Deliveries within the UK and ROI usually take 1-2 weeks from the date of order but can be faster when there is inventory and capacity available.
Available install dates will be provided.
International Orders
International orders are processed and shipped within one week.
We use DHL Express for all international shipments.
International deliveries can take 2-3 weeks, depending on customs clearance and other factors.
Please note that customers are responsible for any customs fees, taxes, or duties that may apply to international orders.
Video call is arranged for training and set up
F Range Fixed chambers are custom-built to specification. From date the specification is approved, there is a 1 week production lead time and approximately 5-6 weeks shipping time.
Delivery and installation date will be agreed with the one of our customer service advisors during the order confirmation call.
For any questions or concerns regarding our shipping policy, please feel free to contact our customer support team. We are here to help and ensure a smooth experience for all our customers.
Explore Our Range Of Hyperbaric Therapy Chambers
- Highest pressures (2ATA 14.7psi) for ultimate health benefits
- Seamless sliding door for easy access
- Advanced internal and external touch screen control
- Upright position for comfort
- Optimium pressures for domestic use (1.3 ATA 7psi)
- Comfortable and practical
- Large transparent viewing windows
- Optimium pressures for domestic use (1.4 ATA 7psi)
- Optimium pressures for domestic use (1.4 ATA 7psi)
- Best value chambers
- Portable for transport or storage
Frequently asked questions
Have questions? We're here to help
What guarantees do they come with?
Are your hyperbaric chambers safe?
Are there service plans for your chambers?
Are your chambers as good as Henshaw chambers?
What ongoing technical support will I get?
Are these chambers for home use?
What conditions can HBOT help with?
What improvements can I expect to see from HBOT?
Are there any side effects of HBOT?